EU Sanctions Iran for Death of 22-Year-Old Mahsa Amini
The European Union on Monday announced sanctions on Iran for the death of 22-year-old Mahsa Amini while in the custody of the regime's so-called morality police and its violent response to demonstrations.
The sanctions target law enforcement and local chiefs for their roles in brutally suppressing protests, including two key figures of the regime's so-called morality police, Mohammad Rostami and Hajahmad Mirzaei.
Iran's Minister of Information and Communications Technology Issa Zarepour is also sanctioned for shutting down the internet amid the unrest following Amini's death.
The sanctions include travel bans and freezing assets, and prohibit EU citizens and companies from making funds available to the designated individuals and entities.
The new restrictive measures also seek to prevent anyone from exporting equipment to Iran that could be used internally to repress people and monitor telecommunications.
"The European Union and its member states condemn the widespread and disproportionate use of force against peaceful protestors. This is unjustifiable and unacceptable. People in Iran, as anywhere else, have the right to peacefully protest and this right must be ensured in all circumstances," an EU news release stated.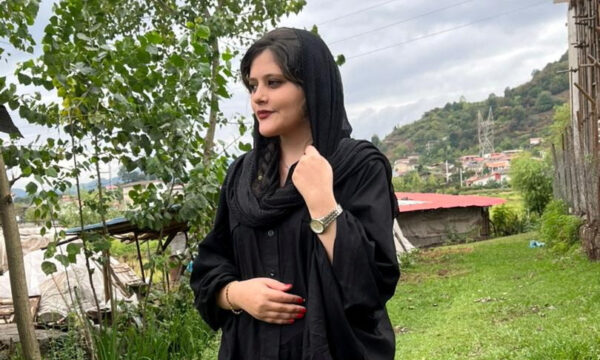 The EU urged Amini's death to be properly investigated and those responsible to be "held accountable."
Amini, who is from Iranian Kurdistan, died while in police custody after being arrested on Sept. 16 by Iran's morality police in Tehran for "unsuitable attire."
Her death led to a wave of protests in at least 50 cities and towns across Iran, the largest since demonstrations in 2019 over gas prices.
According to human rights groups, around 200 protesters have been killed in the weeks of demonstrations since Amini's death in custody. Iranian authorities have denied these reports.
The Iranian government restricts the press and restricted internet access in the wake of the protests, making it difficult to verify reports.
"The EU expects Iran to immediately stop the violent crackdown against peaceful protesters, to free those detained, and to ensure the free flow of information, including internet access," the EU statement said.
"Furthermore, the EU expects Iran to clarify the number of deaths and arrested, and provide due process to all detainees."